Prepare For Any Trip Abroad With This Helpful Checklist
Make Leaving the Country as Painless as Possible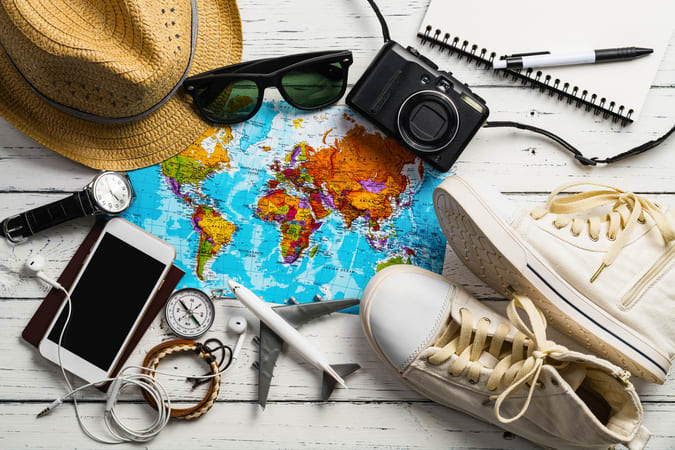 For Your Peace Of Mind
Update your passport, if necessary, or at least make sure your current passport isn't going to expire before your trip. If it is going to expire, apply to get it renewed at least a few months beforehand.
Find out if you need a visa. Some countries require foreign travelers to obtain a visa in order to enter the country. Is the place you're headed one of them?
Get any necessary vaccines. There are different requirements everywhere you go, so talk to your doctor about any vaccines you may need before traveling. And while you're there, refill any regular prescriptions you may need to bring on your trip.
Buy travel insurance. Because life happens...and it's better to be safe than sorry!
Make sure your health insurance plan will work in your destination. While the odds of you needing to use it are slim, it's better to know the fine print up front.
Don't get stranded without money! Make sure you have enough local cash, look up the currency conversion rate and call your credit card company.
For Your Suitcase
Invest in an up-to-date guidebook. They're great resources for everything from popular attractions to hidden gems.
Pack an adapter for your chargers. Different countries have different outlets, and an adapter will help you charge all of your devices and make sure you never get caught without power.
Pack extra clothes in your carry-on. This way, if your luggage gets delayed, you won't be without an extra change of clothes on the first day of your trip.
Download anything you'll need to your devices beforehand—apps for traveling, plane tickets, movies for watching on the plane, etc. Make sure you do this at home when you have Wi-Fi so you don't use your data!
For The Fun Of It
Keep a travel diary! At the end of each day, record some highlights that you'll want to remember forever.
Step out of your comfort zone. Whether it's eating something you wouldn't normally get or wearing an outfit that reflects the local culture, now is the time to try something new!
Ask a local for a recommendation! Tourist hot-spots are great. But sometimes, places off-the-beaten-path are even better. And all you have to do is ask.
Bon voyage!